LSE Generate & AFLSE New York Joint Reception, With Special Guest Dr. Christian Busch!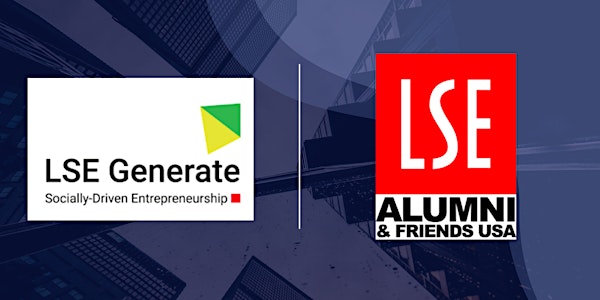 LSE Generate, the School's home for entrepreneurship, is bringing an eclectic twist to our monthly social gathering – an exclusive reception at the LSE Foundation's home office in Hudson Yards. Alumni will enjoy an evening of entertainment with drinks in hand, hearing about the plans we have for NYC as Generate's next international chapter, and a keynote from alum Dr. Christian Busch, a best-selling author, founder, and a sector-leading scholar in sustainable innovation and leadership.

Register with this Eventbrite link here!
This event is part of Generate's International Chapters programme, which aims to connect, educate and inspire LSE's entrepreneurs by supporting them to build and scale their impact ventures. 12 chapters have been launched across continents, with two other in San Francisco and LA.

*The event is open to our current students, alumni, staff and academics, including visiting fellows. Space is limited. RSVP today to confirm your spot.
** All guests will need to be registered and bring their ID for admission by building security.

https://lsegeneratenewyorkdrinks.eventbrite.co.uk/
______________________________________________________________________________________________
About Dr. Christian Busch
Dr. Christian Busch is the bestselling author of The Serendipity Mindset: The Art & Science of Creating Good Luck – "a wise, exciting, and life-changing book" (Arianna Huffington) that provides "excellent practical guidance for all" (Paul Polman, former CEO, Unilever) – and an internationally known expert in the areas of sustainable innovation, purpose-driven leadership, and serendipity. He is the director of the CGA Global Economy Program at New York University (NYU), and also teaches at the London School of Economics (LSE). He is a co-founder of Leaders on Purpose and the Sandbox Network, and a former director of LSE's Social Innovation Lab. His work has been featured by outlets such as the Strategic Management Journal, Harvard Business Review, Forbes, The Guardian, and the BBC.
He is a regular speaker at conferences such as the World Economic Forum, TEDx, and Financial Times Sustainability Summit, and is a member of the World Economic Forum's (WEF) Expert Forum, a Fellow of the Royal Society of Arts, and on the Thinkers50 Radar list of the 30 thinkers "most likely to shape the future."
Twitter: @ChrisSerendip Homepage: theserendipitymindset.com.

Attending this event at this location is your choice. Please stay home if you have a fever or feel unwell, or if you have tested positive for Covid-19 or have been exposed to someone with Covid-19.

For questions about the AFLSE New York City chapter, please email: NewYork@aflse.org
When:
6:00PM - 8:00PM Mon 6 Feb 2023, Eastern timezone

Where:
LSE Foundation
31 Hudson Yards Floor 11
New York, NY 10001
[ Get Directions ]